This domain is for sale > Contact

Motorcycle Tours Route 66 on a Harley-Davidson
With a motorcycle tour along the legendary mother road Route 66 you can let your own American Dream come true - discover the United States of America on a Harley-Davidson motorcycle!
Till the middle of the 20th century, Route 66 was the most important east-west connection in the USA. Hundreds of thousands of people moved west along the Route 66 in search of a better life in California.
The Route 66 "Kicks"-Tour takes you in 12 days from Chicago to Santa Monica, Los Angeles. After receiving your Harley-Davidson rental motorcycle, the adventure will begin and after riding through Illinois, you will reach the city of St. Louis on the banks of the Mississippi, which was once regarded as the gateway to the west. As a reminder of this, the 190 m high Gateway Arch is a must to see. Through the states of Missouri and Oklahoma, the road trip to the Wild West continues to Amarillo and Santa Fe in New Mexico, where unique natural wonders such as the Petrified Forest and Painted Desert can be seen. Of course a visit to the Grand Canyon is a must as well as a stop in the Mojave Desert at the Calico Ghost Town. After a final ride on and along Route 66, you will reach the pier of Santa Monica with the deep blue Pacific Ocean.
The 15-day Route 66 "Dream"-Tour also includes a detour to the glittering town of Las Vegas. By spending one night in Chinle, in the Navajo Indian reservation, you can learn about their old traditions.
For bikers and motorcyclists all over the world, Route 66 is the symbol for freedom on the endless highways of the American west. Even though newer and faster Interstate Highways replaced the old Route 66, it is a dream and a legend and a must to ride at least once in a lifetime.
* HARLEY-DAVIDSON, HARLEY, H-D, HD, HARLEY-DAVIDSON AUTHORIZED TOURS and the Bar & Shield logo are among the registered trademarks of H-D U.S.A., LLC. Reuthers is a registered trademark of REUTHER-ENTERTAINMENTS.
We now invite you to choose from the following Dream Tours we have put together for You: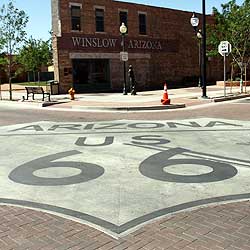 Route 66 Dream
A real dream trip is the popular 15 day Route 66 Motorcycle Tour "Dream" where you will get to know several states in detail along the route. Discover the dream of great freedom on the endless straight highways...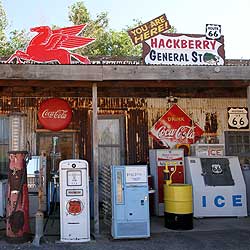 Route 66 Kicks
For people with less time we offer the 12 day motorcycle tour Route 66 "Kicks", which takes you from Chicago to Los Angeles through eight states. On a Harley-Davidson pass through the "Gateway to the West"...
Find your Dream Tour: